By being hired into one of our Physician jobs at Akron Children's Hospital, you'll be a key member of the Akron Children's Hospital team. Professionals in Physician careers come from a variety of backgrounds, bringing an assortment of knowledge and skills to every area of our business. Please click on your desired Physician job below to learn more about the exact qualifications. A job in Physician at Akron Children's Hospital may be waiting for you!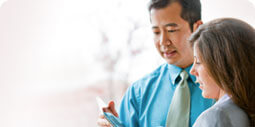 A Team of Individuals
At Akron Children's Hospital, we value everyone for who they are and for the contributions they make. We strive to achieve the best solutions for each patient's unique medical needs – and it takes a variety of strengths, ideas and backgrounds to do so. Learn More >
Share Our Vision – Physician Careers at Akron Children's Hospital
From studying an image produced by our 3T MRI, to providing feedback on the plans for our new $200 million medical tower, to critiquing the latest watercolor and macaroni masterpiece created by a patient in our Expressive Therapy Center, the vision of our medical staff sets the tone at Akron Children's Hospital.